Simpson, Christopher, ed. 1998. Universities and Empire: Money and Politics in the Social Sciences during the Cold War. The Cold War and the University Series. New York: New Press.
Text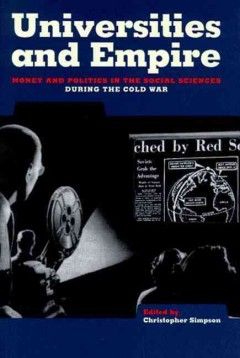 Abstract: "Universities and Empire is a fascinating exploration of the seamier connections between academic research and official public policy during the most turbulent years of the Cold War. It explores the effects of the U.S. military, intelligence, and propaganda agencies on academic culture and intellectual life. Essays by leading academics examine the origins of new subjects of research such as Asian studies and development studies, mine the secret history of Cold War initiatives such as Project Troy and Project Camelot, and discuss the legacy of corporate involvement in the university system."
License
All rights reserved.
Contributed date
June 6, 2018 - 6:02pm
Critical Commentary
Angela Okune: This 1998 work edited by Christopher Simpson provides insight into the influence that Cold War politics and financial pressures had on the social sciences in the U.S.
Group Audience
Cite as
Christopher Simpson, "Simpson, Christopher, ed. 1998. Universities and Empire: Money and Politics in the Social Sciences during the Cold War. The Cold War and the University Series. New York: New Press.", contributed by Angela Okune, Angela Okune and Angela Okune, Platform for Experimental Collaborative Ethnography, Platform for Experimental Collaborative Ethnography, last modified 14 June 2018, accessed 11 December 2023. https://worldpece.org/content/simpson-christopher-ed-1998-universities-and-empire-money-and-politics-social-sciences