PECE Project Page
Image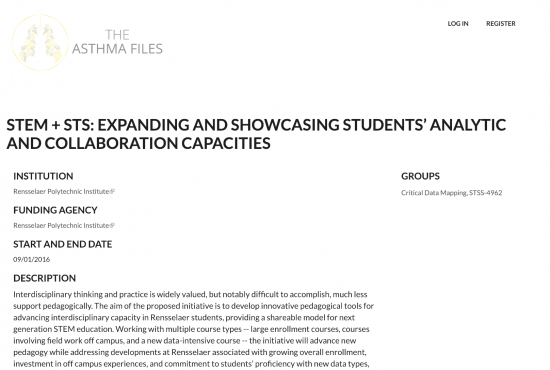 Created date
April 22, 2019
Critical Commentary
This is a screen shot of a PECE project page prior to its redesign. This artifact will be annotated as part of an effort to conceptualize the redesign of interfaces in PECE.
Notes:
The main purpose of the project page, however will be to serve as a splash page for particular projects. This will be a public-facing page for projects like STS Across Borders.
Projects were initially conceived as a space to record metadata about a project, such as the funding agency, the institution where it is taking place, its start and end date, the IRB protocol it uses, and the consent form that it uses. 
Like in a PECE Essay, on project pages, users will be able to curate data throughout the project and display them as part of a project.
However, unlike PECE Essays, there well be a semi-standard layout for project pages. 
Currently there is no project membership, so we would need to think of how folks that have contributed to the project will be represented on the page. 
I would recommend that we avoid setting up/encoding hierarchies of projects (parent/child). If we do this, things could get very complicated very quickly. I can say more about this if anyone has questions. 
Group Audience