PECE Group Page
Image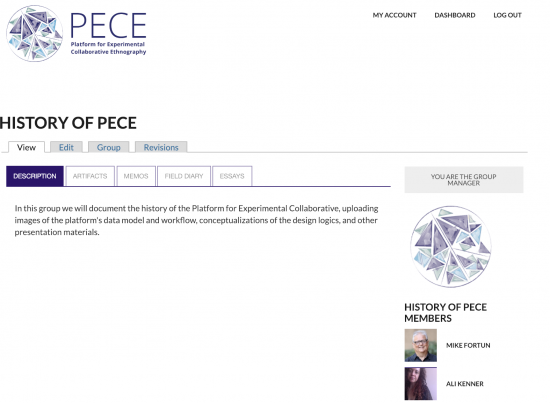 Annotations
Created date
April 22, 2019
Critical Commentary
This is a screen shot of a PECE group page prior to its redesign. This artifact will be annotated as part of an effort to conceptualize the redesign of interfaces in PECE.
Notes:
The main purpose of the group page will be to coordinate groups of individuals in setting up an archive, analyzing the material, memoing, and creating essays. 
Groups will have an administrator and a series of members (which the group administrator will manage). 
Groups will also have a description, and can be designated as part of particular projects. 
Content generated on the platform can set its "group audience" to a particular group in order to be designated as a group artifact, a group memo, a group essay, or a group field diary. 
We have talked about also making it possible to set a group audience for bibliographic entries so that groups can have a group bibliography. (Note that there is no way around having to manually set this for each individual citation in the bibliography.) 
Groups can be child groups of another group by setting their group audience to that other group. The other group then gets designated as a group parent of the original group. This does not mean that content in the child group gets subsumed into the parent group. It only means that there is a pointer to the parent group from the group page. 
Groups can have many layers of permissions. A group can be public or private. And within a public group, certain artifacts designated as part of that groups can be designated as private to group members. 
Group Audience