Mwiria, Kilemi. 1991. "Education for Subordination: African Education in Colonial Kenya." History of Education 20 (3): 261–73.
Text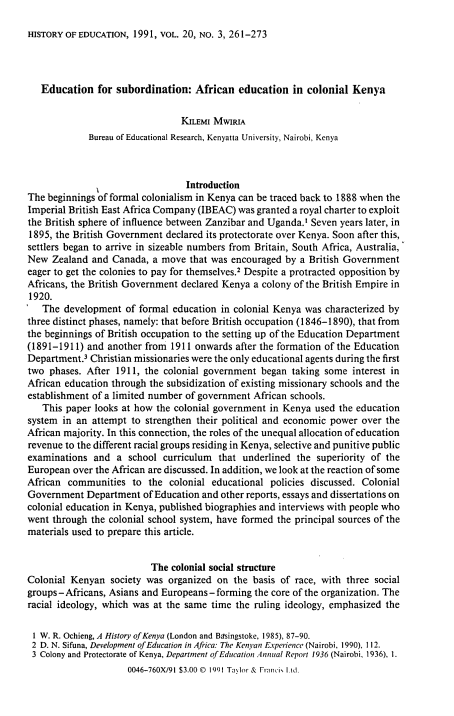 Abstract: "This paper looks at how the colonial government in Kenya used the education system in an attempt to strengthen their political and economic power over the African majority."
License
All rights reserved.
Contributed date
May 24, 2018 - 9:46pm
Critical Commentary
Angela Okune: This 1991 paper by Kilemi Mwiria outlines three phases of the development of formal education in colonial Kenya.
Group Audience
Cite as
Kilemi Mwiria, "Mwiria, Kilemi. 1991. "Education for Subordination: African Education in Colonial Kenya." History of Education 20 (3): 261–73.", contributed by Angela Okune, Platform for Experimental Collaborative Ethnography, Platform for Experimental Collaborative Ethnography, last modified 14 June 2018, accessed 11 December 2023. https://worldpece.org/content/mwiria-kilemi-1991-"education-subordination-african-education-colonial-kenya"-history